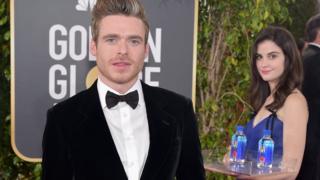 A model who found viral fame by arguably outshining celebrities on the Golden Globe red carpet is locked in a legal battle with the bottled water company that helped make her famous.
Kelly Steinbeich, who uses the name Kelleth Cuthbert to model, became known overnight as the Fiji Water Girl.
She had been photographed smiling as she held a tray of water bottles behind celebrities at the event in Hollywood.
She and Fiji are now feuding over the use of her image in marketing.
The Canadian model, 31, filed a…
Get The Full Story (Credits:) "BBC News"