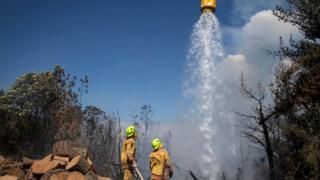 Thousands of people have been evacuated from a New Zealand town as firefighters battle a wildfire stoked by winds in the country's South Island.
The blaze, which began six days ago near the city of Nelson, is now threatening the town of Wakefield.
A state of emergency has been declared and about 3,000 people have fled their homes in the district of Tasman.
Strong winds were expected, and officials warned that Sunday could be a "critical danger point" for the fire.
Prime Minister Jacinda Ardern said she…
Get The Full Story (Credits:) "BBC News"