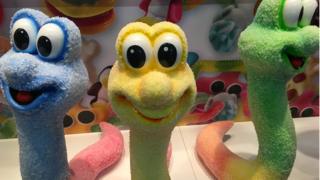 The world's biggest trade fair for sweets is a Willy Wonka-esque display of tempting indulgences, but how is the industry adapting to a growing backlash against sugar?
Suddenly the nougat-covered pretzel I had for breakfast doesn't seem like such a good idea. It's 10:00 and I'm standing in the middle of a Technicolor palace of sugar.
A human-sized fizzy bottle wiggles past, proffering a bottomless bucket of sweets but before I can take one, a man in a dark navy suit grabs a handful and then furtively glances around to see if anyone has noticed.
Get The Full Story (Credits:) "BBC News"