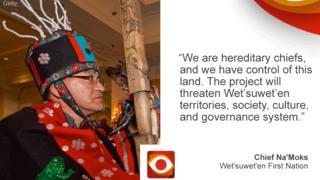 The courts in Canada are grappling with a decision central to the relationship between Canadian and traditional indigenous laws.
The dispute involves the construction of a multi-billion dollar gas pipeline in the province of British Columbia.
It's a project which has exposed a rift between elected and hereditary chiefs of the Wet'suwet'en people, who disagree about whether to allow the pipeline to be built through traditional lands.
The elected councils have jurisdiction within the boundaries of the reservations to administer federal government legislation, but not the wider traditional territory which the pipeline would pass through.
The hereditary chiefs of the Wet'suwet'en nation are stewards and protecters of 22,000…
Get The Full Story (Credits:) "BBC News"